Lee makes excellent flutes. As a performer, I needed a flute with dead-on tuning that could be played with piano or other fixed-pitch instruments and Lee delivered. I also wanted the fingerings to be a bit different from what is normally done, with careful attention to tuning and tone clarity on each note. Once again, Lee delivered. Whether recording or performing, I need a flute with a full, clear
tone and zero breathiness. This flute has a loud, perfectly clear voice that echoed throughout my suburban neighborhood, not an easy feat for a low E flute. Even though the tone is deep and full, it is as responsive as a smaller, higher-pitched flute. There is no sluggishness in moving from note to note and the instrument has been able to play everything I've thrown at it. With its combination of excellent intonation, responsiveness and rich tone, this flute is becoming one of my go-to flutes.
And I haven't even mentioned how great it looks. Dark, rich walnut with an almost liquid-looking curly maple block, this flute makes a visual statement before a note is played. Lee's attention to detail is clearly evident in the crushed glass flame inlay on the block of this otherwise starkly simple instrument. Lee took on a challenge in meeting my exacting demands and he has surpassed my expectations in every regard. I'm looking forward to working with him as he creates my next flutes.
-Jim Mayhew (Flutist/Author)
Check out Jim's new book: Songs of the Nations, available from Mel Bay Publishing.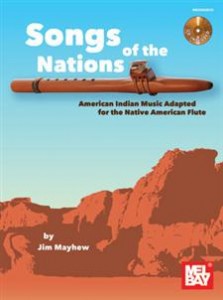 _______________________________________________________________________________
All it takes is a few minutes of searching any you can find a staggering number of Native American flutes for sale out there in every style and configuration imaginable.  For instance, over the years I have amassed what my wife refers to as a ridiculously large collection of Native American flutes (43 so far but who is counting right?!?)  About a year ago I was cruising eBay looking for a flute that I couldn't live without and came across a beauty from a flute maker I have never seen before (Farpoint Flutes) and made the purchase.  On a whim I decided to contact the seller and ask him if he would be willing to add a bit of custom wood burning to the flute as everything in my collection to that point had been "off the shelf".  Lee was extremely gracious and genuinely eager to work with which prompted me to buy a second flute on the spot which he also customized for me prior to shipment.
Fast forward a year and I am currently the proud owner of 5 (with the 6th being created by Lee as I write this) and have been in communication with Lee from Farpoint on the 7th and 8th additions to my collection.  Most recently Lee and I collaborated on a pair of flutes that I commissioned as a gift for my Brother on his birthday.  These flutes were completely custom designed with Lee and I trading several emails and a few phone calls.  From the start of this project I could tell that Lee grasped the meaning of these flutes and that understanding translated into a pair of amazing functional works of art that will be family heirlooms to be passed down to our children.  The experience was so great from start to finish that I actually met Lee in his home to pick up the flutes (4 hours away) and spent the better part of the afternoon with him and his lovely wife.
Let me be the first to tell you that there is a multitude of flute makers out there of varying quality and tuning.  In my experience most of them are woodworking hobbyists or people looking to make a few bucks.  Lee on the other hand is first and foremost a musician which in my opinion is who should be making these instruments.  So, if you are simply looking for a well-tuned or cool looking flute the choices are endless.  BUT, if you are looking for that something special… an instrument to tell a story or the capture the medicine of a moment PLEASE look no further than Lee Nix of Farpoint flutes.
As I type this testimonial Lee is working on a vision quest flute for me that has a tremendous amount of spiritual meaning.  Again the process of creating this custom flute has been nothing short of a pleasure and over the course of this past year Lee has become a close personal friend.  My brother it is an honor to play your creations and you will always have a place at the council fires of my people.
Your Friend,
Charlie Fowler – Tsi-Li-Hu Yo-Na  (Sleeping Bear) – Kansas City, Missouri
_______________________________________________________________________________
"I first saw Lee's flute on EBAY and for some reason I put it on my "watch list". The flute is crafted in Ash and Mahogany in F# minor. The Mahogany stripes are seamlessly merged to the ash on both the front and back which I thought was quite unique. Well I didn't watch, the auction ended and I was bummed. He re-listed and I snapped it up. As an archer I asked if he would customize the flute with a depiction of Native American arrows on each side. What I envisioned in my mind became a reality through Lee's superior craftsmanship and imagination. The only thing better than the look of this flute is the way it sounds. I own several and this one by far sounds the sweetest. Lee is easy to contact and the entire purchase process is flawless. It is an absolute pleasure to own and play such a beautiful and well crafted flute."
Bill – San Diego, CA
no images were found
 _______________________________________________________________________________
"Lee crafted a beautiful Eb flute, out of a piece of walnut that my father had saved for woodworking he intended to get to. Lee not only created a beautiful piece of wood sculpture, but an authentic instrument with a wonderfully haunting sound. I will treasure this handcrafted work of art."
Garrett – St. Louis, MO
 _______________________________________________________________________________
"Dear Lee,
Your latest creation, the myrtle wood G-drone, is a masterpiece! After getting seven different key flutes of yours, I didn't expect you to outdo them, but this one has such a sweet, woody tone and is still revealing one new trick after another. Even so, I must admit my favorite flute is the one in my hands at the time. It's a whole new world of adventure and exploration. Can't wait for the next one!
Sincerely,"
D. Cearlock – St. Louis, MO
 _______________________________________________________________________________
"When I first heard about Farpoint Flutes I was so interested to see how they were made and how they sounded that I ordered one immediately. Although, I was a little skeptical at first about how "easy" it was supposed to be to play I thought they were beautifully crafted and I liked the artistic factor. When that one arrived, I tried it out, and I was in love…it really is easy to play and even my three young children took an interest in it. I ordered a smaller one made just right for my youngest ones with smaller hands and also a larger one that has a somewhat deeper sound. The kids and I now play all the time and we're having so much fun with it! We have found Farpoint Flutes to be of excellent quality and craftsmanship…not only do they sound beautiful they are also gorgeous to look at and make for an interesting conversation piece displayed in your home."
Laurie F. – Germantown, TN
_______________________________________________________________________________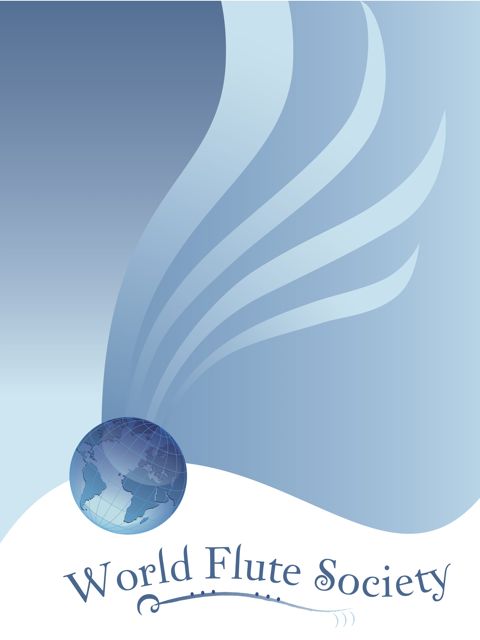 Proud Member of the World Flute Society